This article is about the Smithing skill. For information on how to train Smithing, see Smithing Training.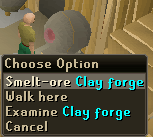 Smithing
is a skill used to create weapons and armour from metal bars and ores. Smithing is usually trained alongside
Mining
, as training Mining provides you with ores that can be used to train Smithing.
In Smithing, ores are refined into bars within Furnaces around Soulsplit. The Clay Forge located at South Neitiznot is the most popular location to smelt ores. Once bars are acquired, players can use them on Anvils (with a Hammer in your inventory) to create various armour and weapons.
Products
Bars
In Smithing, there are seven different bars that can be smelted from different ores mined throughout Soulsplit. Upon creating bars, you can receive coins, so it is advised to leave a blank spot to collect the rewards from smelting the bars. 
Other Products
After creating bars; armour, weapons, and various other items can be made out of the bars as long as one has the required Smithing level.
Smithing Interface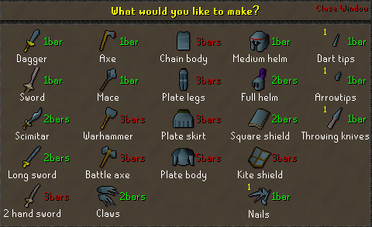 After using a metal bar on an anvil, the Smithing interface will appear if you have the correct Smithing level to make something of the given metal (see above table for level requirements). There are multiple options as to what a player can smith, as seen in the picture. If the option has green wording, it means you have enough bars to make the item. If it has red wording, it means that you do not have enough bars to make the said item.
The name of the item being white indicates the requirement that the required Smithing level to make that item has been met. However, the item name being in black indicates that an insufficient Smithing level is possessed, denying the ability to create that item from bars.
Trivia
Despite not having a nearby anvil, the Lumbridge furnace location has the fastest access to a banker, making the Lumbridge furnace the ideal spot for quick ore smelting.