Start Point:
North-east of Varrock.
Difficulty:
Medium
Description:
The Bone man has a task for you that involves the killing of monsters..
Length:
30-45 minutes
Requirements:
Items required:

7 pots of vinegar
Tinderbox
Oak logs.
100 Coins

Enemies to defeat:

Goblin
Bear
Moss giant
Ram
Unicorn
Zombie monkey
Giant bat
Getting Started
You will need to find the Odd Old Man north-east of Varrock.

You will be instructed to get a Monkey's Paw, Bear Ribs, Big Frog Leg, Giant Bat Wing, Unicorn Bone, Goblin Skull, Ram Skull, a Tinderbox, Oak logs, and seven Pots of vinegar.
Note: That these are not the regular bones that all of these monsters drop.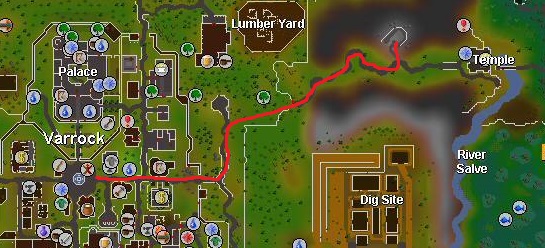 Getting the Items
| Item | How to obtain |
| --- | --- |
| Bear ribs | Dropped by Bears located south of Varrock. |
| Big frog leg | Dropped by Moss Giants in Brimhaven dungeon (Buy a Games necklace from Giles, rub it and teleport to Brimhaven dungeon). |
| Monkey paw | Dropped by Zombie Monkeys roaming around Ape Atoll. |
| Ram skull | Dropped by Rams located at the Lumbridge Yak pen. |
| Goblin skull | Dropped by Goblins east of the Lumbridge teleport across the river. |
| Giant bat wings | Dropped by Giant Bats in the Taverley dungeon just past the ghosts. |
| Unicorn bone | Dropped by Unicorns located south of the Edgeville, north of Barbarian Village. |
| Pot of vinegar | Buy from Zaff in Varrock square. |
Finishing the Quest
Once you get all of the bones you want to use them on the pots of vinegar.
Go back to the Odd Old Man with a tinderbox and oak logs, and light his pot-boiler with the tinderbox.
Rewards
200k Prayer experience 

75k Herblore & Cooking experience

Ram Skull helm

50k cash